Return to Blog
WHAT DEFIBRILLATOR SHOULD I PURCHASE?
If you suffer a sudden cardiac arrest, all averages being equal, you stand only a small 10% chance of survival.
The chances of survival go up slightly if you are near someone who knows CPR. However, the chances go up dramatically if you are within 3 minutes of a defibrillator: 90% chance of survival.
Did you know most airports and large public places have a defib within a 3 minute radius? Do you? Are you and your staff covered?
I don't know which defib to buy, I hear you ask. Let us help you!
We have partnered with Heartsine, how are known for their value for money, both in terms of the initial cost price, as well as the low upkeep costs.
Manufactured in Ireland, they are a solid, reliable and reputable company.
The 3 Heartsine Samaritan Aed Trainer models that we have on offer are:
DEF300 – Heartsine Samaritan Pad 500P Semi Automatic Aed Defibrillator
DEF301 – HeartSine Defibrillator Samaritan 360P Fully-Automatic
DEF302 – Heartsine Defibrillator Samaritan 350P Semi Automatic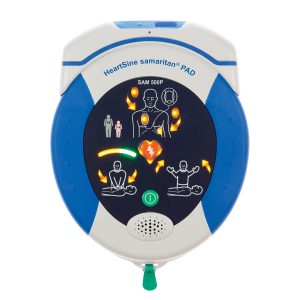 The main differences between the types of defibrillator above units are:
DEF300 – This machine gives real time feedback on the CPR rate and force that is being performed (push harder, faster, slower or good compressions)
DEF301 – This machine is the fully automatic defibrillator.
DEF302 – This machine is the semi automatic defibrillator.
Do you know the difference between Fully Automatic & Semi Automatic Defibrillator?
A semi-automatic defibrillator has a button for the rescuer to push if a shock is required, whereas a fully-automatic defib does not; it automatically shocks the patient if a shockable heart rhythm is detected.
All of the above defibrillators have the following benefits:
Audible and visual CPR coaching metronome
High level of protection from dust and water ingress (IP56)
Integrated battery and electrode for one-change maintenance
4 year electrode and battery life
Pediatric compatible
90 minute ECG recording time
Carry Case included.
REMEMBER: Whatever defib you choose to buy, it is better than not having one. Lets save lives together.
Here is an overview on the DEF300 – Samaritan 500P
Heartsine Samaritan 500P Training Video